10 Brands of Shoes That Have Comfort Written All Over Them: Part 2 for the Men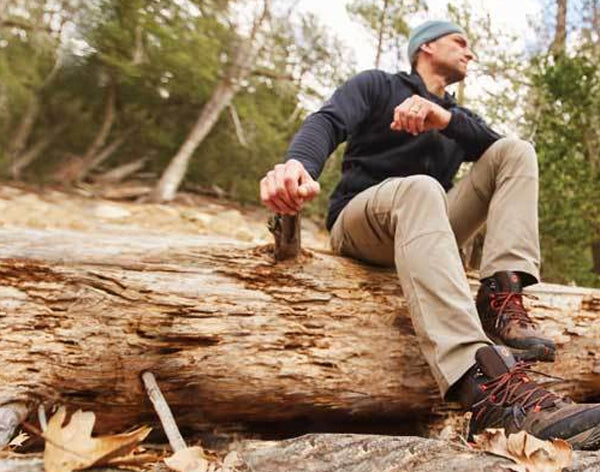 "You're off to great places! Today is your day! Your mountain is waiting, so... get on your way! -Dr. Seuss
What do you look for in a pair of shoes to go with your active lifestyle for the open road? Fit is paramount. But you also need quality and durability. Then, there's style.
Put these qualities together with the magic ingredient of comfort, and you have got yourself a great shoe! Rhianna and Rob from the Men's Store at FL Crooks & Co. would like to recommend to you the following 10 shoe brands for men which we have built our inventory around with the above mentioned qualities in mind: 
#1). Johnston & Murphy - Originally called "The William J. Dudley Shoe Company" after their immigrant founder, this Nashville based footwear company was taken over by business partners and friends, James Johnston and William A. Murphy.  From that first call to custom design footwear for President Millard Fillmore in 1850, the company has gone on to design other presidential footwear:  Abe Lincoln's size 14 lace-up boots, JFK's 'leading man' wingtips and Obama's modern oxfords. The 165-year tradition of excellence continues to evolve from comfortable classic business shoes to trendy, current styles with colored laces and dress sneakers.
#2). Merrell - With headquarters in Rockford, MI, the Merrell shoe company in known for their high performance hiking, durable running, and comfortable casual styles of footwear. Rob points out that "experienced hikers consistently rate Merrell at the very top of the list of the best shoes for outdoor activity". Word of mouth spreads their message with very little advertising dollars spent.
#3). Olukai - Hawaiian inspired leather shoes and sandals, the Olukai name has become synonymous with style, comfort, and craftsmanship. "Our top selling summer shoes come from the Olukai company" according to Rhianna. Their classic fall shoe with the 'drop-in' heel proves to be nearly as popular as well. So, as the Olukai message states, "Jump right in and catch the current!" Moreover, "Everybody can live aloha."
#4). Sperry - An iconic hand-crafted style since 1935, the Sperry line of footwear includes a range of colors, styles, and materials in classic boat shoes, sneakers, sandals, loafers, and oxfords. Rob points out that this line "goes great with Vineyard Vines clothing".
#5). Bed Stu - Cobbler styled and inspired by the streets of New York, Bed Stu is sustainable handcrafted vegetable tanned leather shoes and boots for everyday lifestyle. Rhianna likes to say that these are "classic shoes with a twist." All shoes are hand made with no two alike. With time and wear, the leather will continue to evolve into a look that is truly one-of-a kind.
#6). Teva - Since 1984, the Teva name has become synonymous as a great shoe for water sports. This recreational shoe for summer has been time-tested and will serve the wearer well time and time again, month after month.
#7). Keen - Starting as a sandal company in 2002, Portland based Keen has evolved with the mantra, "If it can be imagined, it can be created." What would happen if a rubber toe protector, a toe guard, would be added to a pair of sandals? The rest is history. A big sense of pride envelopes their loyal following. Keen proclaims, "We're building products right here, employing American workers to build quality footwear for the American workforce."
#8). Salomon - Built to offer comfort, fit and performance, Salomon shoes are simply superb for running, hiking, and mountaineering. The 'Quicklace system' is durable and doesn't stretch while keeping the foot secure. And these amazing shoes come in a lot of fun colors!
#9). Timberland - With a rich New England heritage, Timberland personifies the American classic for a boot. The SensorFlex comfort system will keep you smiling. With a plethora of lace and pull-on styles, the popular Earthkeeper series is now in its 10th anniversary year.
#10). Birkenstock - No list of shoes would be complete without the mention of Birkenstock, headquartered in Neustadt, Germany, and a favorite the world over. This family owned and operated business was begun in 1774 by Johann Adam Birkenstock. The contoured cork soles can be soft or hard and actually mold to the shape of your foot.
Rhianna and Rob enthusiastically say, "We have a shoe for every occasion." So, the invitation is extended. Come and visit our awesome shoe inventory at FL Crooks & Co. and select a shoe that is durable, of great quality, fits you well, and is oh, so comfortable!
Oh, the places you'll go!
Ramble on in comfort & style,
Lydia Crooks