A History of FL Crooks & Co. - Where Fashion Meets Main Street - Embracing Change Optimistically and Enthusiastically!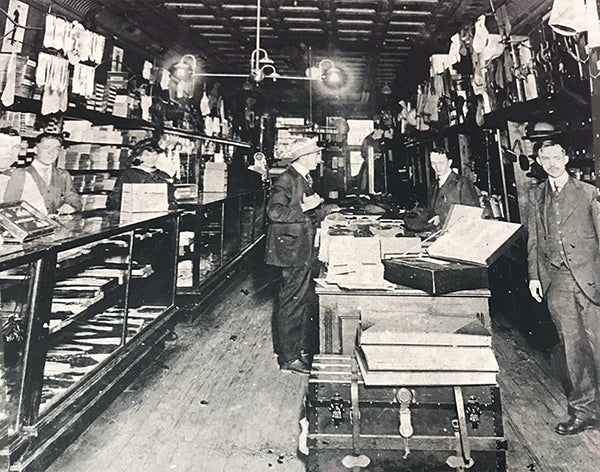 Step back a moment in time with me. It is the year ... 1905.
- Theodore Roosevelt is beginning his first full term as president of the United States.
- With Wilbur Wright piloting, the Wright Flyer III stays in the air for 39 minutes.
- There is less than 200 miles of paved roads in the US.
- Only 8% of US homes have a telephone.
- The average wage earner makes 22 cents an hour.
- Sugar is 4 cents a pound and a dozen eggs cost 14 cents a dozen.
- FL Crooks & Co. opens!
From the days of the horse and buggy to the dawn of the era of self driving cars,FL Crooks & Co. has continued to evolve and change with the times, bringing quality clothing and exceptional service to a growing and loyal customer base. The store has moved from being a traditional men's and women's clothing store which carries better tailored clothing to a total lifestyle store.
The unique shopping experience appeals to the shopper looking for a designer Joseph Ribkoff dress for a special occasion to the outdoor enthusiast looking for the best Merrell or Soloman hiking shoes for the trail. The discerning shopper can find the best of Hart Schaffner Marx, The North Face, Patagonia, prAna, Tommy Bahama, Barbour, Vineyard Vines, Heritage 34, Mavi, Johnston & Murphy, Olukai, Teva, DANSKO, Naot, Sperry, UGG and the list goes on and on.
FL Crooks and Co. was among the first stores in western PA to carry Pandora jewelry. The Alex & Ani, Brighton, and Mariana jewelry collections offered to customers are extensive. Vera Bradley purses and travel bags continue to be ultra-popular.
FL Crooks & Co. has been family owned and operated since its beginning in 1905. Founder Frank Leslie Crooks took his experience in retail sales and opened a clothing store in downtown Clarion. His brother, James Maconnel Crooks became a partner after twelve years as an on-the-road salesman. Heading to Pittsburgh for the day, Crooks would load his car trunk with pants and bring them back to Clarion to his customers.
James' son, Donald, joined the family men's clothing business after returning from WWII in 1945. His wife, Bernadette, added the Tree House, filled with current women's fashions, in 1969. Donald and Bernadette's son, James, majored in Marketing at Clarion University and made the business his livelihood and passion.
An on-line presence for nearly twenty years now, James' son, Nathan, developed the store's website, www.flcrooks.com, while a teenager. Packages are mailed throughout the USA as well as internationally to the delight of our growing fan base.
A strong sense of purpose and vision with a commitment to excellence pervade all we do. Owner Jim Crooks likes to quote, "Without a challenge, there is no change. And without a change, there is no growth." The FL Crooks & Co. story in one of embracing change and coming out stronger because of the challenges.
While embracing change in its constant and varied forms, we continue to provide quality clothing, shoes and accessories with impeccable service. We are grateful for the partnership with our valued and loyal customers. It's been a great and exciting journey since 1905, and we look to the future with optimism and enthusiasm!
With gratitude,
Lydia Crooks