A Toast to Century Old Stores including FL Crooks & Co. of Clarion, PA!!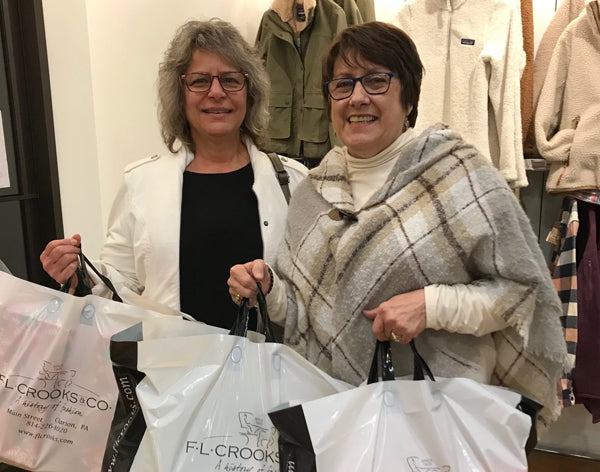 A Toast to Century Old Stores!
Asked to name the favorite hobby of Americans, you might say gardening, sports, music or … shopping! Shopping is an art and a science with some even calling it retail therapy. And in spite of the monumental changes in the way shopping has evolved over recent years with the internet and Amazon, shopping in physical stores is here to stay.
MR Magazine and the Chicago Collective, a Men's Clothing Show for retailers, are joining together to honor more than three dozen men's specialty stores in America which have been in business for 100 years and more. While maintaining their core values, these clothing stores have delivered great product, stellar customer service, and a passion for what they do with style and panache. Having been in business since 1905, FL Crooks & Co. of Clarion finds itself among this distinguished list of honorees.
The tribute will include special recognition at the Chicago Collective and a coffee table edition of the MR (Men's Retail) magazine featuring profiles and insights of the honored recipients as to how they have managed to survive and thrive for more than a century in spite of monumental changes in the way customers shop.
These century establishments include the following popular clothing stores:
- Neilson's of Oxford, MS since 1839;
- Berlin's of Charleston, SC since 1883;
- FL Crooks & Co. of Clarion, PA since 1905;
- Mitchells of Westport, CT since 1910;
- Metzger's of Mobile, Al since 1919.
Peerless Clothing International is pleased to help sponsor these awards as well.
Quality and good taste are timeless, and savvy shoppers like Diane DeBacco and Marilyn Magnani (pictured after a recent shopping spree at FL Crooks & Co.) recognize a good store when they see one. Sincere customer service and superior merchandise will no doubt continue to be in the forefront. Here's to the next 100 years!
A toast to our wonderful customers!
Lydia Crooks
FL Crooks & Co.
Clarion, PA