Celebrate The Open Road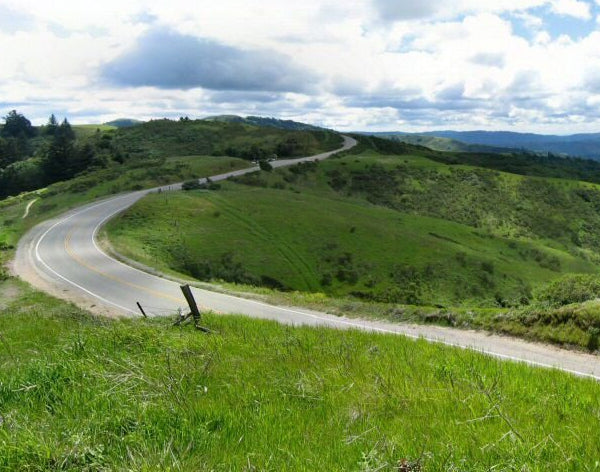 Afoot and light-hearted
     I take to the open road;
Healthy and free,
     the world before me,
The long brown path before me leading wherever I choose.
Henceforth I ask not good fortune, I myself am good fortune;
Henceforth I whimper no more, postpone no more, need nothing,
Done with indoor complaints, libraries, querulous criticisms,
Strong and content I travel the open road.
All seems beautiful to me.
I can repeat over to men and women:
You have done such good to me I would do the same to you.
I will recruit for myself and you as I go.
I will scatter myself among men and women as I go,
I will toss a new gladness and roughness among them.
-Walt Whitman
Here we are in the midst of the merry month of May. What better time to take to the open road? The school year will soon be ending; life's classroom awaits with all its adventures. Walt Whitman composed the poem that appears above, one of twenty new poems that appeared in his beloved 1856 edition of Leaves of Grass. It is uncanny how appropriate Whitman's message is for today, how current and relevant and timely for our age. The open road invites us all to come together in a meaningful way. How can we better embrace the challenges that the open road offers to us? 
*Take responsibility to move life forward.
Let's seek out new adventures in travel, in new experiences, in trying different hobbies,in joining clubs that might be of interest. Meeting new people adds vibrancy and inspiration to our days.
*Be grateful.
Practice gratitude. Accentuate the positive. It's more fun to be around those who are full of grace rather than those who are constantly grumbling. Say 'thank you' and 'I love you' more and show more appreciation.
*Get out-of-doors.
When we need to clear our heads, nature is waiting for us. Take a walk. Go for a bike ride or a daily jog. Celebrate the beauty of the world all around us. 
*Eat good food and establish good eating habits.
Eat breakfast like a king, lunch like a queen, and dinner like a pauper. And don't forget to drink enough water.
*Exercise every day.
An hour of exercise in the morning will increase metabolism levels for rest of the day and boost morale as well. And who couldn't use a bit more energy.
*Offer to help others.
Spontaneous acts of kindness bring joy to the recipient and the giver alike. 
*Go at your own pace.
The story of the tortoise and the hare come to mind - slow and steady wins the race.
*Spend some time with yourself.
Learn more about who we are. What motivates us. What are we passionate about.
*Connect with a faith-based community.
Other like-minded souls will help to create purpose and fulfillment in our own lives.
*The soul itself is a traveler.
Nurture it and allow it to breathe, to sing, to dance, to grow.
Look to the open road, and celebrate this great journey of life!
Cordially,
Lydia Crooks