Custom Bar Enables Limitless Possibilities in Creating Your Shirt with Perfect Fit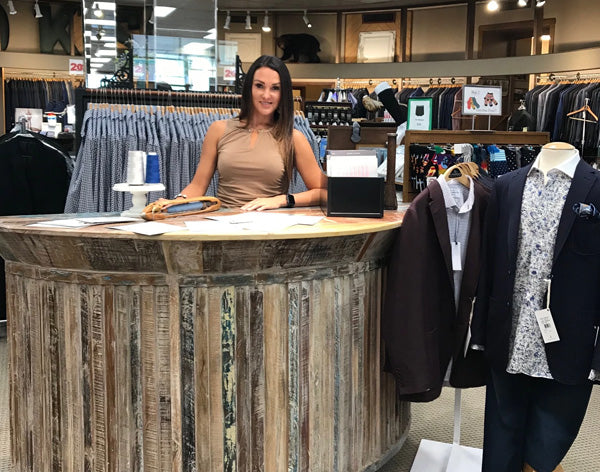 Have you ever thought of becoming a designer? With the addition of a custom bar at FL Crooks & Co., you now have the opportunity to design your very own custom shirt. This is a fabulous opportunity to have a shirt just the way you want it with the absolute perfect fit.
Instead of utilizing neck and sleeve measurements only, two mathematicians took body scans and figured out algorithms and created a company called STANTT. The name of the company is derived from the word 'constant' and promotes a consistent size and fit in the custom design of a personalized shirt.
To begin with, simply choose a swatch of fabric at the custom bar and you are ready to create a dress shirt, tuxedo shirt, short sleeve button-up, short sleeve polo, crew next t-shirt, or V-neck t-shirt.
(There are tuxedo shirt options with a tuxedo studded front or a tuxedo hidden placket as well.)
The fun continues with lots of features for you to choose...
- Placket styles include Standard, French Front, Tuxedo Studded Front and Tuxedo Hidden Placket.
- Collar styles are numerous as well: Semi-Spread, Modified Spread, Cutaway, Button-Down and Mandarin.
- There are 12 different button choices.
- Monogram embroidery (for $10!) is available in Diamond, Block or Script and can be placed on the sleeve, pocket, or wherever you choose on your shirt. Colors of embroidery thread include black, white, navy, burgundy, pearl, grey, purple, green and sky blue.
- You may want to create a contrast collar and cuff to create a unique look for your shirt. Add a pocket if you like. You may choose a barrel cuff or a French cuff.
Prices for these unique one-of-a-kind shirts start at $98.
Rhianna from the Men's Department at FL Crooks & Co. is excited to bring this current concept to our customers. She points out that shirts are ready in just two weeks. New fabrics are brought in seasonally.
In the modern era, the customer becomes the designer. FL Crooks & Co. embraces this cool concept and invites you to come on over and step right up to the custom bar. Design for yourself a shirt that fits you to a T with the features that are just as you want them to be.
Lydia Crooks
FL Crooks & Co.
539 Main Street
Clarion, PA 16214