Happy, Happy New Year 2018!!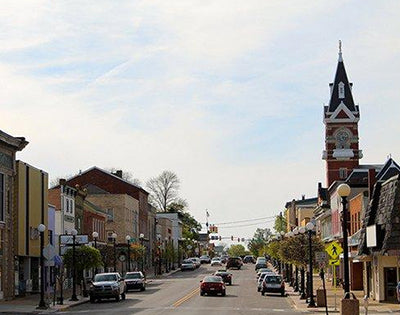 With the New Year 2018 upon us, many of us turn our attention to making a resolution or two. But instead of thinking about our own individual lives, why not make this the year of the community? Why not work toward making the place we live in an all-around better place to live, work, and grow. We could start striving to...
- Shop local.
Communities that preserve their one-of-a-kind businesses have a definite economic advantage. The whole community is enriched when a much larger share of the business revenue is recycled right back into the local community.
And more jobs are created when businesses are supported by shopping locally. In fact, the U.S. Small Business Administration found that small businesses accounted for 65% of all net new jobs over the past 17 years. 
- Buy less. Buy quality.
In this era of lightning fast production and disposable fashion, the quality of clothes could to be said to be on the decline. Designer Vivienne Westwood has a remedy, "Buy less. Choose well. Make it last. Quality, not quantity. Everybody's buying far too many clothes."
Be a savvy, informed consumer when it comes to buying your clothing. Fabric content matters. When touching the fabric, is it brittle and thin and rough or soft, smooth, and substantial? The more dense the fiber, the longer the garment will last. Look at the individual yarns. The more tightly spun, the better. Try stretching a small part of the fabric. Does it bounce back to its original shape. If it does now, it will likely do so when wearing the garment. Also check the seams for even, closely spaced stitching. Keep in mind that if you want quality, you have to pay for it.
- Read and learn.
Bill Gates, Warren Buffet and Elon Musk, three incredibly successful individuals of our generation, are avid readers. One flight attendant observed that people in coach spent their time playing games and watching movies, those in business class were intent on working on their laptops, and those flying first class were - you guessed it - reading!
Jane Austen writes in her masterpiece Pride and Prejudice, "I declare after all there is no enjoyment like reading!"
- Discover the joy of giving.
Tim Ferriss states in his book The 4-hour Work Week, "There are two components to enjoying life and feeling good about yourself: continual learning and serving."
Research shows that the brain chemical oxytocin is released when we give. Giving connects us to others, promotes empathy, and expands our world.
Anthony Robbins in his book Awake the Giant Within reveals, "Even small decisions and small actions, consistently made, have far-reaching consequences." Wishing you a Happy New Year 2018, a year of community building, of striving to make the world around us the best that it can possibly be.
Cordially,
Lydia Crooks