It's a Merry Christmas 2019!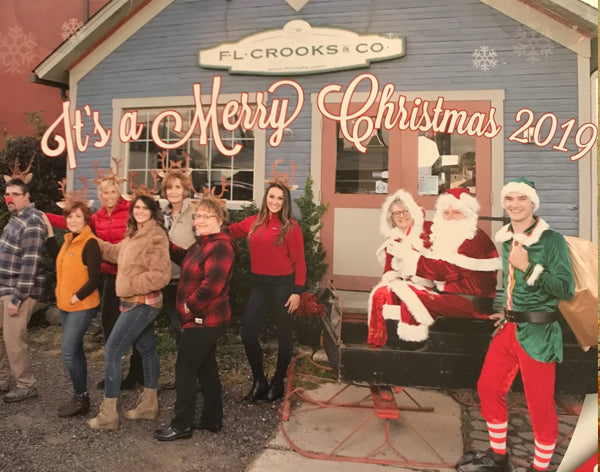 It's a Merry Christmas 2019!

"Christmas waves a magic wand over this world, and behold, everything is softer and more beautiful." -Norman Vincent Peale
Every season has its charm, but Christmas can stand head and shoulders above the rest as the most wonderful time of the year. I asked the staff at FL Crooks & Co. to take me on their path to Christmas joy with this question: What makes/made it a merry Christmas for you? Do you have a favorite Christmas memory, tradition, gift that stands out in your memory?

It's a Merry Christmas...
Audrey - "Shopping for my family and friends is only one of the many joys I experience at Christmas. Knowing among the many packages I have chosen for each of my family members there is that one 'extra special' gift that person is going to be super excited about. To see the expression on their face upon opening their package is truly heartwarming and has made each Christmas the merriest for me."
Chelsea - "A cozy house with warm new socks sitting next to the fire as we visit with family listening to corny Christmas music. We laugh as we competitively play games and learn new life updates from cousins while sipping on Swedish Glug."
Darla - "...enjoying our grandson at age 1 ...having my 3 children all together at home (which doesn't happen too often since they're grown) ...having the house decorated in greens and lights …spending time with family and friends..."
Gayle - "...because it is a time for me to be with my children, grandchildren, and great grandchildren. I love seeing the excitement in their eyes, anticipating the arrival of Santa! Christmas is all about children!"
Leah - "Christmas is a season of many memories. Family and friends are a big part of Christmas for me. It's about creating new memories and sharing old memories with each other. Everyone comes together to celebrate the Christmas festivities. My family and I enjoy baking, watching Christmas movies, and wrapping gifts. It's also a time to be grateful for everything you have and to donate your time to someone in need."
Lydia - "My Uncle John came to the rescue one Christmas during my childhood and made the day a merry one indeed. It was one of those old-fashioned snow storms. The Christmas eve snow came down long and hard. By Christmas morning, we found ourselves snowed in and without electricity or power to boot. With his clever ingenuity and a sturdy vehicle, Uncle John chauffeured us to his home where a back-up generator came in handy to keep my family and his warm and to help Aunt Gladys prepare the Christmas meal. The spirit of Christmas was shining bright in the kindness and loving actions of my dear uncle and aunt and their family. It was truly a Christmas to remember!"
Regina - "My mother went home to be with the Lord in 2014 and although Christmas is always a special time in our home, it's not the same without my Mom!! She made Christmas absolutely magical when I was small. Every little detail was touched by perfection!! From all the lights to the beautiful tree laden with gifts.. all the gifts from family wrapped with beautiful bows and ribbon... and all the gifts from Santa unwrapped straight from his sleigh!! My Mom made sure I heard the sleigh bells and heard hooves on the roof!! I can still hear them if I listen hard enough!! The anticipation and excitement was unparalleled to any other time of year, and Mom was sure to have a birthday cake for Jesus... the true reason for Christmas. It's definitely among my fondest memories!! Merry Christmas everyone."
Rhianna - "When I see the excitement on my kids faces on Christmas morning. For young kids the magic of Christmas starts with seeing the Elf on the Shelf, making cookies and decorating the house for the holidays. A merry Christmas is spending time together with family."
Robert - "When you see the excitement and awe in the kids faces even as they get older...the smell of a traditional breakfast of my wife's family for breakfast (even if I don't really like it)..and let's not forget the countdown until the first gifts get broken...But the spirit of Christmas starts long before Christmas morning, it starts in our hearts as we sing songs, decorate the house, enjoy the company of friends. Remember Christ and what he has done for us."
Wishing you and yours the very merriest of Christmases! May the peace, joy, hope and love of this special Christmas season be with you now and into the New Year 2020!
Merry, merry Christmastide!
Lydia Crooks
FL Crooks & Co.
539 Main Street
Clarion, PA 16214