Share Joy - SHOP SMALL - Gift ideas from the Staff at FL Crooks & Co.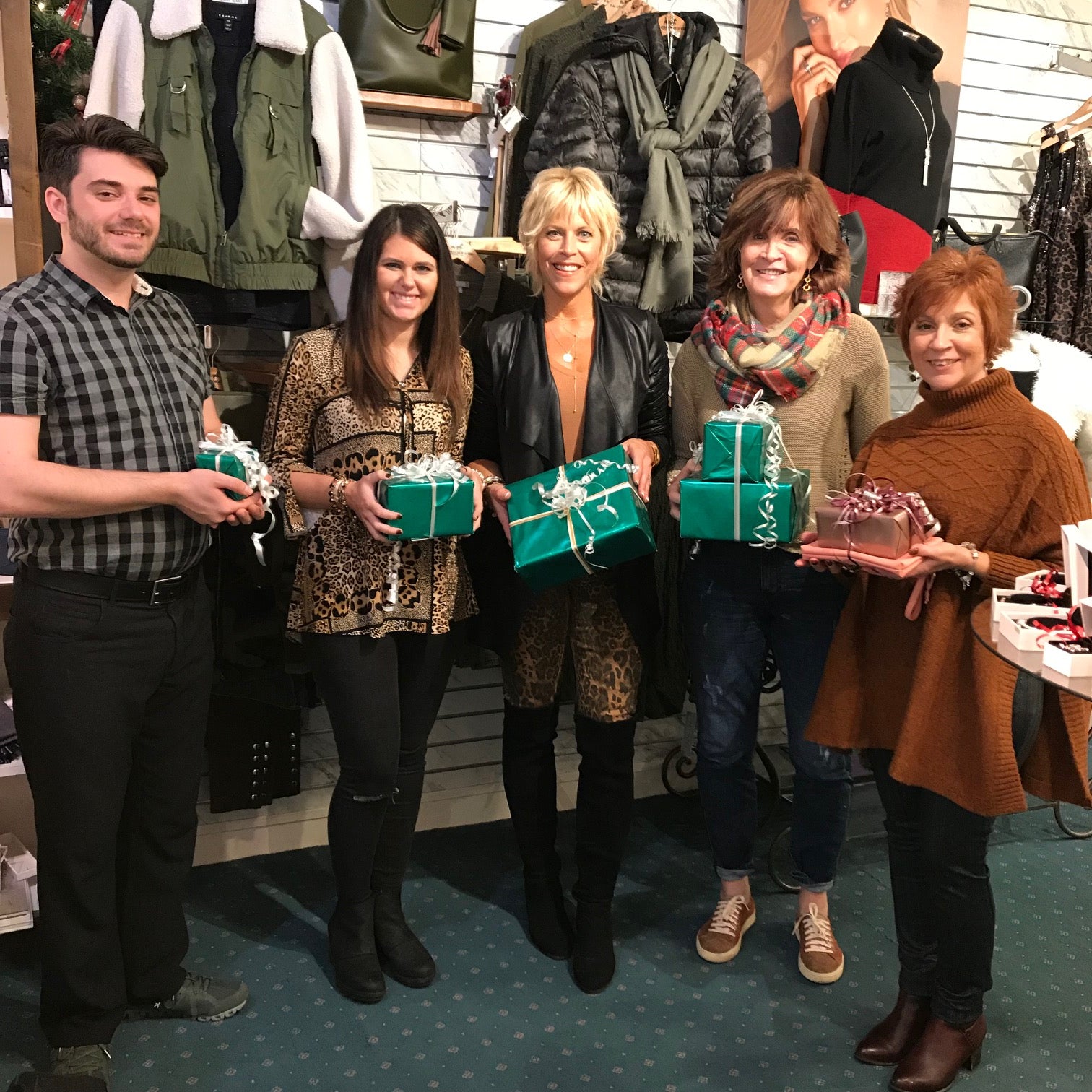 The holidays look a little different this year,
but we can still share a lot of cheer!
Looking for inspiration to make the season sparkle? Preparing for intimate celebrations with your loved ones? Let our helpful and knowledgeable staff at FL Crooks & Co. assist you in the gift giving department. We stand for service, and our clothing and accessories resonate fashion and quality. Here are a few suggestions from our staff that will give you some great ideas for that oh so perfect gift for your family and friends:
Gayle - "All women love jewelry. Marianna jewelry is so striking in the different combinations of color and stones. It's handmade, and it comes with a lifetime warranty."
Regina - "I would suggest a Patagonia coat, a nice cozy sweater, and a scarf.
Our sweaters from Tribal and Charlie b are especially nice. Our V. Fraas scarves made in Germany are gorgeous and reasonably priced." 
Leah - "To make a huge hit with your loved ones, wrap up a leather coat from Mauritius and put that under the Christmas tree this year. These coats are classics yet on the cutting edge of fashion and will never go out of style. The colors range from gray blue, distressed denim and brown with a reddish cast."
Darla - "PJ Salvage pajamas are so soft and cute. When you touch them, people buy them. We have two-piece sets, slippers and plush blankets. Also, purses make a wonderful gift. We are excited about our collection including great product from Hobo, Jen & Co., Barbour, Patrizia Luca, and Vintage Addiction."
Sam - "Patagonia sweaters offer a trendy look and a palette of color choices.
Another cool gift suggestion is the Napo fingertip gloves which are touch screen compatible."
Rhianna - "Barbour products such as the gloves, hats, and toiletry bags in solid olive or tartan plaid are really special. The Johnston & Murphy messenger and laptop cases in leather are awesome. Also we carry shoe care kits that come in cedar boxes for $75. The wallets by Siegred and also by Fossil make spectacular gifts."
Lydia - "If you are looking for a non-clothing gift, may I suggest an artisanal, eco-conscious hand-crafted candle by the Pittsburgh based company Chez Lapin. These scented candles use no chemicals or preservatives. The flavors range from pumpkin/brown sugar/spice to citrus & cedar. The lemon/lavender/vanilla cream is amazing as is the aroma of the heirloom apple/cinnamon/clove."
Find your favorite gifts for friends, family, and even for yourself right here on Main Street at FL Crooks & Co. Gift wrapping is always free. For your shopping convenience, log on to our website -
www.flcrooks.com
. Store pick-up is available with our online shopping as well.
Here's to a happy, healthful, and hopeful holiday season. And here's to that perfect gift that is waiting for you here at FL Crooks & Co. Share Joy! Shop Small!
Merry Christmastide!
Lydia Crooks